I find that there are a lot of debates going around about the use of pacifiers. Some people are 100% against them saying they will cause tooth issues, some people say they wont cause tooth issues unless baby is using it all the time, some say they are fine as long as you use an orthodontic pacifier and then there is the whole issue of your child becoming addicted to the pacifier and becoming overly relent on it.
Soo many opinions from so many so called experts. At first my husband and I decided against using a pacifier with Addison. We figured if she was never given a pacifier she would never miss it. We received a few pacifiers while I was pregnant from from attending baby shows and opening our baby registry as well as baby gifts.
After a few weeks...being first time parents with a newborn...we caved and tried some of the pacifiers anything to get baby to be quiet and sleep at that point. Thankfully Addison was receptive to the pacifier and it calmed her and she spit it right out as soon as she was calm again. Now at 4 months old we have tried a few different pacifiers here's what we like..

Philips Avent Classic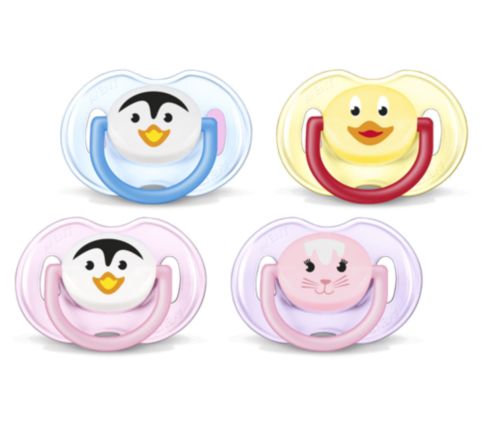 Received a free set from the Babytime show, but have since purchased another set.
Pros
So far defiantly Addison's Favorite
Cute designs and colours
I like the handle
Comes with a cover so its great to throw in the diaper bag and I don't have to worry too much about it getting dirty
Orthodontic and BPA Free
Sold pretty much everywhere
Cons
Its my dogs favorite too and he keeps trying to steal it when Addison spits it out
Condensation gathers in the nipple when sterilizing
Chicco NaturalFit
Received as part of a baby registry gift
Pros
Orthodontic
Single piece construction (no small parts that can break off)
The nipple is hallow so I can see how well the suction was
Cons
Addison only accepted it a few times but mostly just spat it out right away
Difficult to find in store mostly only available for online purchase
No case to put it in so it was constantly needing to be cleaned
Received One as part of a baby registry gift and received a 2 pack as a baby gift
Pros
Cute patterns and colours
Came in a case that can be used to sterelize
BPA Free
Addison sometimes accepts this one
Sold pretty much everywhere
Cons
Addison does not consistently accept it but likes it better when daddy gives it to her
When she sucks to hard on it it leaves little marks on her face
I cant attack it to a leash because it has no handle
Hipster Kid Mustache Pacifier-The Gentleman
Received as a baby gift from my silly uncle
Pros
Addison likes this one
Its comes with a cover so I leave it in the diaper bag in case we need it
Orthodontic and BPA Free
It is absolutely hilarious seeing my daughter with a mustache
Cons
People give you VERY dirty looks when they see babies with this pacifier
Condensation collects in the nipple when sterelized
You cant clean under the mustache so dirt might collect there
Purchased because she loves her Nuk bottles
Pros
Cute patterns and Colours
Easy to clean
Orthodontic and BPA free
Addison will accept it
Nipple is shaped more like mothers nipple
Sold mostly everywhere
Cons
Addison wont always accept it
No cover so the nipple needs to be cleaned often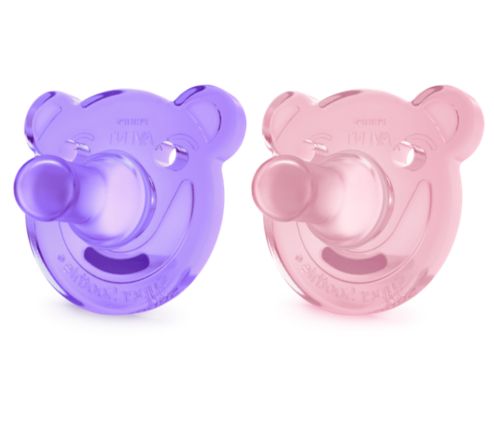 Purchased to use while teething
Pros
I can put water in the hallow nipple and freeze it for teething relief
Most popular pacifier
Cute colours and mine are shaped like teddy bears (very cute)
One piece design
Orthodontic and BPA free
Easy to clean
Sold everywhere
Cons
No handle
Addison wont keep it in her mouth long
No cover so it needs to be cleaned often
These are our experience with pacifiers Addison will not sleep without hers (she usually spits or it falls out once she is asleep and me being a paranoid mom I move it away from her) If you are considering using a pacifier keep in mind that every baby is different some will and some will not accept it. There are many positive and many negatives when it comes to using them but so what works best for you and your child. Sometimes its worth getting that 10 minutes of quiet.