When it comes to diapers I find that some people swear by one brand or another. When Addison was born we tried a whole bunch of different brands and as a newborn I really didn't like any one brand over another. We have been consistently buying Huggies just because I find they go on sale more often.. Now that she is a bit bigger I can defiantly tell the difference between diapers so I figured what better time to try some other brand and see if I can save myself some money. I've never been much of a brand snob and often choose the store brand when it comes to my grocery shopping.
Currently Addison is over the weight for size 2 diapers but she is a slim baby so the tabs on our size 3 diapers overlap. I decided while I still have a few size 2's left I should try a small bag of the Walmart 'Parents Choice' diapers.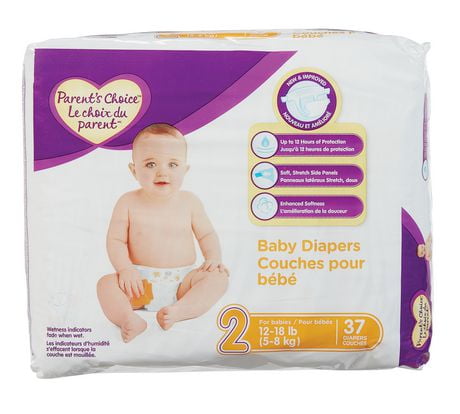 At first glance I liked that these do have a wetness indicator on the size 2 that I bought however they don't have it past size 2. I also liked how slim the diaper was. The diaper fit my little girls bum very well. These diapers contained her poop pretty well and I haven't had any poop leaks. However they seem to have issues with pee. If she peed more then once in this diaper it felt like jello in her diaper, and left her skin moist and even left pee droplets on her skin. My girl sleeps through the night and these just didn't cut it over night, she woke up with her mattress and clothes all wet and she was not happy about it. Also my husband hates them...He didn't give me a reason just told me he hates them.
Basically with these I guess you get what you pay for. They work...but you will be changing the diaper so much more often that you may as well spend the extra $3 and buy the name brand because they will probably last you longer.